Spotlight On: Steven C. Howard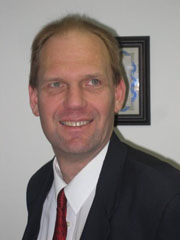 Please tell us about your background, where you practice, how long you have been a criminal defense lawyer, and how you became to be known as "The Gun Guru."
I was born in Texas and my family ended up moving to Southern Colorado. My father was a college professor and worked as a part-time gunsmith, which was his hobby. So, I began working on firearms at an early age. After I finished high school, I got an A.A.S. in Gunsmithing from Trinidad State College. I opened El Pueblo Gun Repair in 1980.
In 1989, I finished my degree in criminal justice from Metropolitan University in Denver, Colorado. In 1992, I went to work for the United States Border Patrol. In 1994, I was hired by the United States Department of Defense Federal Police. I separated from the Federal Department of Defense following a training accident and returned to gunsmithing while I prepared for the law school entrance examination. I entered Cooley Law School in the Fall of 1998 and graduated in the spring of 2001. I passed the bar in 2002 and immediately hung out my own shingle. With my background in law enforcement, my law practice does more criminal law than anything else. My office is located a stone's throw from the Capitol building in downtown Lansing. Given my extensive knowledge of firearms, someone in the State Appellate Defender's Office referred to me as "The Gun Guru." and the name stuck.
How can a firearm expert help criminal defense attorneys?
A good expert can make, or break, a case. An expert (be it firearms, DNA or other) can tell the attorney who is telling the truth, who is lying, and, better still, he or she can generally prove it. As a firearms expert, I can conduct experiments to prove, or disprove, the theory of prosecution, prepare direct or cross-examination questions for all witnesses, including myself. I can create demonstrative evidence that can be any- and everything from photographs and video-reenactments to support the defenses version of the events.
Please tell us about an interesting case in which you were involved.
Most recently, I testified at a trial in Florida. Defendant was accused of shooting a police officer in the back while he was sitting in his car. The officer claimed he was shot in the back while he was driving away from the defendant and claimed he was 75 yards away when he was hit. The accused claimed that the off-duty officer pulled a pistol on him and the shooting took place in very close range. By means of a thorough shooting-incident reconstruct-tion investigation, we were able to prove that if the officer's version of the events were truthful, the defendant would have had to have fired from the top of a six-story parking structure. The jury found the defendant not guilty on all counts.
How did expert testimony factor into the case?
The expert testimony was the case. Without the expert, it strictly would have been the accused's word against the officer's word and that would have been a "no-win" situation. As far as I know, only the accused and I testified. This has happened several times and many times the result has been an acquittal or a conviction of an appropriate (usually lesser) charge.
What trends do you see in the criminal law in Michigan?
The trend I see is the increased use of experts. Thanks to the various "CSI" television shows, the general public and, therefore juries, have an increased interest and hunger to see science-based testimony. As a general rule, juries always believe police over defendants regardless of anything else. Science, on the other hand, especially science that they can see and, in some cases, can even touch, is far harder to disregard.
Any advice for other lawyers?
My advice is twofold: First, have experts review your cases. While many people are a quick study, they cannot possibly read the case file with the eye of an expert. Second, is to have courage. "All that is necessary for the triumph of evil is for good men to do nothing." -Edmund Burke. Time and again, I see people not doing things in Court because they are afraid of upsetting the judge. Likewise, they don't ask questions because they are embarrassed. "Simple questions are easier to deal with than stupid mistakes, and the only stupid question is the one that is not asked." "The sky is the limit for those that dare!"
Mr. Howard's websites: www.gunsandammoex pert.com and www.stevenhowardesq.com
by Neil Leithauser
Associate Editor