Spotlight On: Aaron J. Boria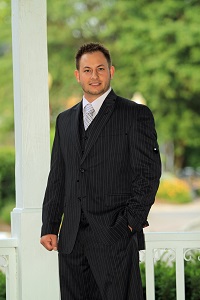 Please tell us about your background, how long you have been a criminal defense lawyer, and where you practice.
After attending high school in Milford I earned a bachelor' degree in business administration at the University of Michigan. I went immediately to Thomas M. Cooley Law School. So immediate that I actually had the undergraduate ceremony on a Sunday and had law school orientation and classes the following Thursday. I guess there must have been a fire, because I finished my class requirements in two years.
While attending law school I worked as a bartender. I was lucky enough to be a part of The Innocence Project and the public defender's office. From both, I gained a lot of real world experience while still in school.
I'm living in Plymouth where I recently purchased my first home. My practice is also located in downtown Plymouth, where I have a grueling 5-minute commute. I've been practicing since May of 2010.
Please tell about one of your interesting or unusual cases.
My first jury trial was a contributing to the delinquency of a minor case. It was at the 24th District Court in Allen Park in front of Judge Page. I thought this case was undoubtedly a loser, but the jury came back in about 5 minutes with a not guilty verdict.
What were the main issues?
My client was accused of leaving an infant on the median of Outer Drive. Our defense was that he was protecting the child from a suicidal ex-girlfriend who ran off of a bus and into traffic with the child. He grabbed the child from her, set the child down on the median in a car seat, and then chased after the girlfriend to try to help her as well. The prosecution had two eyewitnesses that were a husband and wife. Their testimony conflicted greatly and it was apparent that the wife wanted my guy to go down – the jury didn't like that.
Were expert witnesses needed?
Nope.
What trends and significant issues have you seen in Michigan jurisprudence in recent years?
I don't think I have been practicing long enough to really comment on any "trends". I can say that the quick advances in technology and how they can affect a criminal case have been interesting. Smartphones give everyone the ability to record an incident as it occurs, which can really make or break a case. Chemical testing makes me wonder if I should go back for a Ph.D. to understand the testing process and statistical uncertainty. More and more laws are getting added to the books to deal with the changes while the old and outdated laws are not removed.
Do you have advice for other defense attorneys?
The harder you work the luckier you get.
Mr. Boria's website: http://thelawyermichigan.com/
by Neil Leithauser
Associate Editor