Spotlight On: Laurel Kelly Young - January, 2015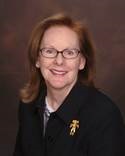 Please describe your practice, and tell us where you practice and how long you have been a criminal defense attorney?
I practice in Grand Rapids. I have been a criminal defense attorney since 1987. My first job was with a general practice firm, and I thought maybe I would go into real estate law. They forced me to sign up for the criminal defense appointed list so that I could get "free" trial experience. I fell in love with criminal defense. Now I have honed my practice down to my favorite work which is appeals. I spend 100% of my time on MAACS and retained appellate cases.
Please tell us about one of your interesting cases.
So many interesting stories! That's part of why I love criminal defense. I have a case where a 16-year-old girl was charged as an adult with 2nd degree murder of her boyfriend. She pled to 2nd degree murder and they dropped the felony firearm. It included a sentencing cap of 16 years. It was one of the worst plea deals I had ever seen, AND, to make matters worse, after reviewing her court file including the police reports and other evidence, I came to the conclusion that her suicidal boyfriend had actually committed suicide. There was no physical evidence that she had done it. The challenge to a claim of innocence was that she had been so intoxicated when it happened (she blew a .035 about seven hours after the fact), and after she had sobered up, the police told her that she had shot and killed her boyfriend. She believed them that she must have done it even though she could not remember doing it. We moved to withdraw her plea. I was able to get a Ginther-hearing. Her trial attorney admitted that he had never investigated a possible suicide, because, he claimed, she said she did it. The evidence just did not support that theory. The cursory autopsy said it was a homicide because the detectives told the coroner that she shot her boyfriend. Her trial attorney never cross examined the coroner at the preliminary exam. His reason? "Well, because it was Stephen Cohle."
Our motion for plea withdrawal was denied. Our delayed application for leave to file in the Court of Appeals was denied. Then my MAACS appointment ended. I took it to the Michigan Supreme Court on my own because I believe in my client's innocence. The MSC denied us as well. So I intend to do a habeas.
Were experts needed?
I wanted a blood spatter expert because there was no blood on my client. I wanted a gun expert who could have opined regarding the trajectory of the shotgun shell and how that did not line up with my client's height compared to her boyfriend's height. Also, a gun expert could opine that it is possible to press a shotgun to your eye and reach the trigger. An expert on blood alcohol levels could have determined my client's level of intoxication at the time of the shooting. And of course an attorney expert who could opine as to whether trial counsel's choice not to investigate a suicide was reasonable. In this guilty plea appeal, there was no funding for these types of experts. An avenue for reform would necessarily include post-conviction funding for experts.
What significant trends – good or bad -- have you noticed in Michigan criminal law over the years?
I like that the practice of appellate law is going virtual. E-filing is great. I scan in all my documents and transcripts and read them on my iPad. Court reporters are starting to email PDFs so I don't even have to do the scanning. I love the thought that I can work anywhere as long as I have my laptop and my phone.
Do you have any advice for other attorneys?
SADO is an incredible resource. I use the brief bank and forum almost daily. I have found links to information that I had no idea was out there. I have emailed SADO and requested old unpublished opinions and received a copy soon thereafter. They really want to help. The list goes on.
I also think it is important to visit with appointed incarcerated clients. I always learn something from them about their cases, and I generally outline the brief in my head on the drive back to the office.
Do you have any specific advice for new lawyers?
You're going to be working for a long time. Explore until you find that niche where work just doesn't feel like work. My friend's father designed heating and cooling duct work runs for new construction. Sounds fascinating, right? Yet he would say "I can't believe they are paying me to have this much fun every day." Your passion is out there. If you haven't found it yet, keep looking. You will know it when you see it.
by Neil Leithauser
Associate Editor