Spotlight On: J. Randall ("Randy") Secontine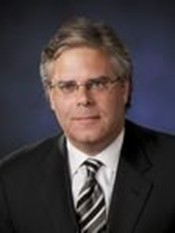 Please tell us something about your background, where you practice, your areas of practice, and how long you have practiced criminal defense.
I joined a small business-oriented law firm after passing the bar exam. I enjoyed the experience but longed for the courtroom. A year later, I joined the Oakland County Prosecutor's Office (OCPO). The move to the front lines opened the doors to an extraordinary learning experience, challenging career, and many lifelong friendships with many fellow APAs and members of the defense bar. Over 18 years, I was fortunate to be presented with a diverse set of responsibilities that included Major Crimes Prosecutor, Training Coordinator, and Executive Staff Attorney. I left OCPO in 2009 and joined several other former APAs at the Flood Law Firm in Royal Oak. In 2016, I opened my office but remained at the Main St. location. My current practice focuses on criminal defense, family law, license restoration, and civil litigation.
Please tell us about one of your interesting cases. What were the theories of the parties? Did the case require expert testimony?
A couple of years ago, I received a call from a client informing me of his most recent OWI 3rd arrest following a single car accident. The client was in the vehicle with another, younger person that had a different skin tone and hairstyle. Both occupants were injured and away from the car when police arrived. While admitting it was his car and that he was seriously drunk at the time, my client was adamant that he was not the driver. While reassuring the client all issues would be vigorously scrutinized during the pre-trial process, I admit I was somewhat skeptical early on of the frequently alleged, yet rarely successful, "I wasn't driving" defense.
The prosecution relied on a state police trooper who was adamant he saw my client driving when the vehicle passed him moments before the crash. When the discovery was produced, it showed inconsistencies with the trooper's account. Our private investigator then gathered more police evidence to support the independent witness accounts that were all beneficial to my client. We were able to support citizen eyewitness accounts that the younger person with the dark curly hair was the one that exited the driver's side of the car. Needless to say, my client was very happy to be "older" and "gray" on that day. The case was dismissed pre-trial.
How can our criminal justice system in Michigan be improved?
The disparity gap in available financial resources between the prosecution and the defense bar representing the accused must continue to be reduced. The clients, the courts, and our communities all benefit when relevant criminal justice issues are fully and fairly litigated. The Michigan Indigent Defense Commission has made great strides in identifying the need to make additional public funds available for expert investigative services for cases involving court appointed or low-income clients. As a result, it is now up to us, as criminal defense practitioners, to seek out and rely upon the forensic experts made available to us with additional funding.
What significant trends – good or bad – have you noticed in Michigan criminal law over the years?
I am a huge supporter of drug courts, sobriety courts, and other forms of therapeutic jurisprudence. These types of programs are among the absolute best current crime prevention solutions available in criminal justice. I was privileged to be the Adult Treatment Court (ATC) APA in Oakland County Circuit Court for the last 4+ years of my time at OCPO. While there, I saw first-hand the inspired results a collaborative and thought provoked approach to substance abuse and addiction can have. Why are drug courts important? Success for the participants is not guaranteed – every client must work on their own to engage as a personally invested stakeholder. If they are merely present in the collaborative process, the program is not for them. That earned success helps teach them the essential tools for sobriety they will need going forward in society. As one participant told our team, "ATC is not for those that need it, it is for those that want it.
Do you have any advice for lawyers new to the practice of criminal law?
Consider each day a new learning opportunity for how you can elevate both your skills and effectiveness as an advocate and litigator. Prioritize the development of relationships with more experienced attorneys and ask them about their cases and the unique experiences in their careers. Pursue membership in as many professional associations as possible. Groups like SADO, CDAM, ICLE, your local bar, and similar listserves provide so much more than just networking opportunities. They have professional resources and training aids that are priceless when it comes to case preparation and trial advocacy.
by Neil Leithauser
Associate Editor