Spotlight On: Elias J. Escobedo, Jr.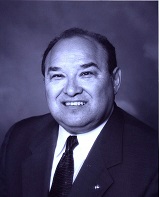 Please tell us something about your background, and your areas of practice.
I was born in Lansing, of Mexican American parents. At a young age my family moved to Fort Wayne, Indiana. I am the oldest of seven siblings. I served in the US Marine Corps. from 1966-68. While in Vietnam, I was wounded and received two Purple Hearts. I earned my undergraduate degree from Oakland University and Law Degree from Wayne State. I was able to do this with the assistance of the GI Bill.
In 1976, my wife and I and three children moved back to Michigan. I had obtained employment in the Human Resources Department of Pontiac General Hospital, serving in various administrative positions. When I resigned from the hospital in 1987 to open my law practice, I held the position of Assistant Vice-President of Human Resources. In this capacity, I was responsible for contract negotiations with the various unions, employment relations, and administration of the Human Resources Department.
My wife Amelia and I have been married 54 years. I am grateful to her for managing our home and caring for our children while I was in school and working full time. She did the real work. My primary areas of practice are federal and state criminal defense, some family law, and cases of a general practice nature.
What drew you to the practice of criminal defense?
It was a process of evolving professionally. I expected to work in the area of labor law due to my extensive employment experience and training. When I was unable to secure a position, I decided to open my own practice. I soon realized that where I needed to be professionally was representing citizens charged with criminal offenses. The inherent unfairness of the criminal justice system quickly became apparent to me.
I had taken an oath to defend the Constitution when I enlisted in the Marine Corps and then again took an oath to defend the Constitution when I was sworn in as a lawyer. I have come to realize how diluted the principles upon which the United States was founded have become, thus requiring more vigilance on the part of we lawyers to sustain those principles – clearly an uphill battle currently.
I am of the belief that "All Lives Matter."
Please tell us about one of your interesting cases; what were the theories and main issues?
I had a case a few years back involving a Mexican national charged with CSC. During the investigative process, a Hispanic border patrol agent was called in to serve as an interpreter for local law enforcement. In short order, he took over the questioning of my client and control of the interview. During the evidentiary hearing, I argued the position taken by this agent became one of a coercive nature and denied my client the opportunity to make a knowing and voluntary waiver of his Miranda rights. The agent was in full law enforcement garb, with a flak jacket, sidearm, etc.
I obtained the services of a certified interpreter who viewed the interview video and testified at the hearing that the Border Patrol Agent was not functioning as an interpreter but rather an interrogator. His translation of what was being asked by the local police was terrible. At one point during her testimony, the court asked if she were to give the agent a grade on his interpreting, what would it be. She said, "I would give him an "F." Ultimately, the court suppressed all evidence associated with the interrogation of my client.
We were able to negotiate a much better resolution to the charges.
What can we do to improve criminal defense in Michigan?
We are heading in the right direction. A lot more work needs to be done. Alternatives to incarceration must continue to be developed. There are citizens such as our veterans that need courts that recognize their unique needs. Combat is not something you experience one day and forget the next.
The quality of interpreters in our criminal courts must be greatly improved. There are a good number of interpreters that assume the role of a lawyer rather than that of an interpreter.
Do you have any advice for attorneys new to the practice of criminal law?
Criminal defense requires commitment, dedication, and hard work. Few lawyers who focus on criminal defense attain a level of financial security that is adequate. We are running a marathon. It is an area of the law where the criminal defense bar must always be vigilant. It is imperative that we be prepared to run the marathon. At times, the rewards are few and far between.
Above all, we must not compromise our ethics and integrity. The future of our children and grandchildren depend on it.
http://www.escobedolaw.com/
by Neil Leithauser
Associate Editor